Vincentian Formation
St. Louis Archdiocesan Council of the Society of St. Vincent De Paul
Vincentians seek to draw closer to christ…
… they hope that someday it will be no longer they who love, but Christ who loves through them (Rule, 2.1).
Three Essential Elements of the Vincentian Charism:
Blessed Virgin Mary, Immaculate Conception
Patroness of the Society of St. Vincent de Paul
#1. Spirituality
Vincentians are called to journey together towards holiness because true holiness is perfect union with Christ and the perfection of love, which is central to their vocation and the source of its fruitfulness (Rule, 2.2).
#2. Friendship
Vincentian friendship is concerned with the total and ultimate welfare of the other, considering their spiritual, moral, emotional, and material needs.
Christ is the center of Vincentian friendship and his presence is a source of salvation and sanctification for Christian friends.
#3. Service
From its very beginnings, the Society of St. Vincent de Paul has been concerned with making manifest the divine charity of God in the world.
There is no charity that is foreign to the Society. Christian charity originates and is aligned with the self-giving love of Christ crucified, who gave his life for his friends.
Formation from Vincentian Sources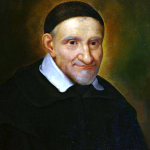 St. Vincent is the Patron saint of the Society of St. Vincent de Paul. Our formation material returns to thought and work of St. Vincent de Paul and his collaborators, as well as the sources they relied upon.
St. Vincent de Paul
We also look to the founding experience and charism of the founders of the Society of St. Vincent de Paul, including Bl. Frederic Ozanam, to seek to renew an approach to the Vincentian vocation that is both faithful and innovative.
Bl. Frederic Ozanam